Seminars
Here at Noah's Ark we regularly run different courses and seminars. Here are the events that are planned so far. If you want to book on any just contact us for more information.
Fully Accredited Canine First Aid Course
30th September 2018
£50 per person.
Accredited means it's Certified. Most Canine first aid courses are not accredited so you just get a certificate of attendance. This is accredited, so it's recognised in universities and colleges.This course concentrates on the dog although many of the first aid principles apply to other mammals too as the body systems work in a very similar way.By the end of the course you should be able to:Recognise a range of First aid situations.Be able to carry out a safe assessment of the animal.Be able to respond to a range of first aid situations.Have the confidence to carry out basic first aid treatments whilst waiting for veterinary attention.This is an Accredited Course and you will receive a Certificate of Qualification in Canine First Aid.
Accreditation is by CPD Standards
Canine Behaviour Course
30th September 2018
Understanding Canine Behaviour 30th September 2018
Do you want a better understanding of canine behaviour?
During this event you will learn more about canine specific behaviours, how to accurately read their body-language and how problems develop. You will also cover the prevention and treatment of a range of common behaviour problems.The course is suitable for the canine professional, dog owners or those who want to follow a career path working with dogs
.In this half day course delegates will look at:
 An introduction to canine specific behaviour
 Interpreting canine communication methods
 How fear and frustration can lower the threshold for aggression
 Development of common behaviour problems
 Prevention and treatment strategies
Fees include course notes, light refreshments and a certificate of attendance from Pet Education and Training
The course will be led by Caroline Clark: Caroline has a professional teaching qualification and is an A.B.T.C. Registered Clinical Animal Behaviour Counsellor and full member of the Association of Pet Behaviour Counsellors (APBC). She is a fully qualified Registered Veterinary Nurse with over 30 years' experience in Veterinary practice. Caroline currently runs a busy behaviour referral practice covering Yorkshire and NE Lincolnshire. She lectures and provides CPD events to veterinary nurses, vets and pet professionals and has had a number of articles published in peer-reviewed veterinary journals
Carol Hutchins and Tasha Anderson 'Poodle & Doodle' Seminar
14th October 2018
Tasha and Carol will be demonstrating on 4 dogs 2 poodles and 2 doodles. One set will be in pet trims and one set in competition trims.
Price of ticket is £85 (non refundable)
Carol & Tashas mantra is "Knowledge is a gift for sharing".Bit of history: Carol Hutchins opened 'The Lady & the Tramp Grooming Salon' in Gloucester some 26yrs ago in the back of a garage, the business has moved 3 times as its for ever growing. Now to include (along with her business partner Tasha Anderson & a team of The grooming School & The grooming event studio!Carol wanted a breed to show off her craft when training as a groomer she fell for a Standard Poodle, soon her first Poodle entered her family, It was a pet but she tried her hand at showing her and soon got the Show bug, the Poodle family grew & having now won 18 CC's & 36 RCC's and several Champions with her Parcheeni Poodles they are a well established line in the Poodle World. Carol took to entering Grooming Competitions in 2016 and being placed at all uk comps entered and taking first at Mastergroom in the Champion Hand scissor Poodle Class with her beloved Champion boy Charlie aka Parcheeni Pulled A Cracker... And Winning RBIS with a borrowed Min Poodle at The Patterned Poodle Show.Tasha Anderson has been grooming for 25yrs trained by Carol Hutchins and she became a business partner to the well established Salon 6yrs ago where Tasha put her energies into the Grooming School side of the business teaching C&G Having gained her C&G level 3 diploma, Tasha has a passion for teaching and comes very naturally to her, she excels in understanding the Difficult Dog and her demos on the subject have proven to be helpful and positive to many. Tasha took to competing in Grooming comps Feb 15 winning 1st in her Purebreed class, at Love 2 Groom Scotland, since then she has placed 3rd at Patterned Poodle comp, 1st workshop with a Cavachon UK Groom off. 1st place in the workshop at BDGC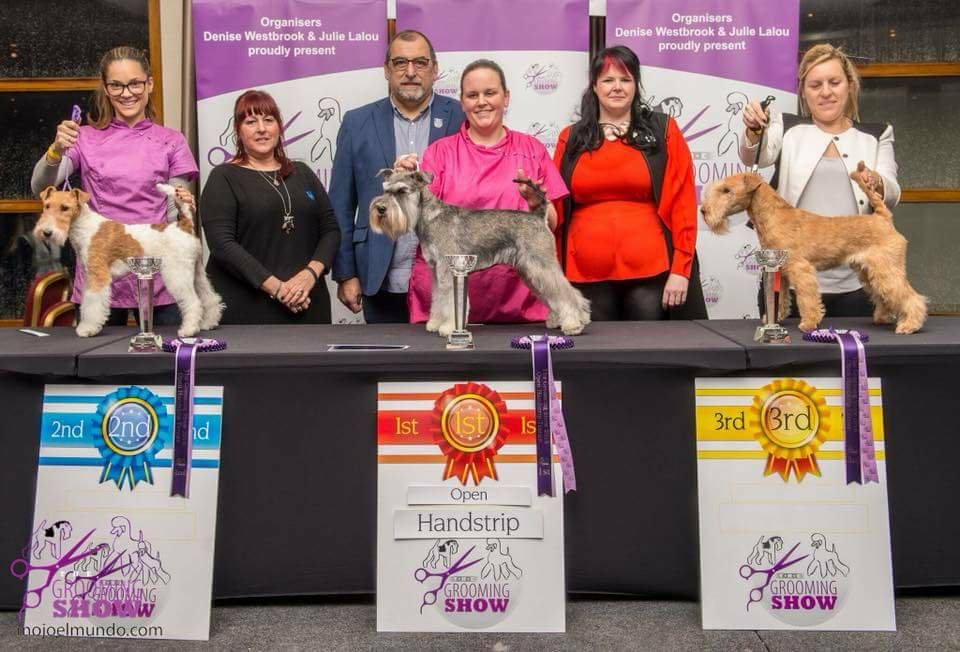 Sue Pratt comes to Yorkshire
21st October 2018
Sue Pratt is coming to Hull in October to show us her amazing Grooming on three different breeds. The breeds that are there are her American Cocker Spaniel, a Lhasapoo and the third dog is a West Highland Terrier
Ticket price is £60 per person (non refundable)